You've heard people preach about black coffee. But is it better to drink your coffee black, than with anything else ?
Does it have to do with the health benefits ?
Is it the taste ?
Both ?
In truth, the answer is a little more complicated, and it's not set in stone either.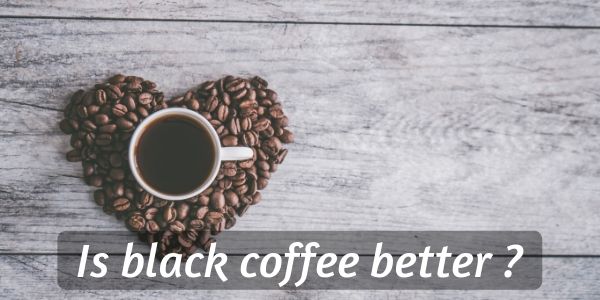 So is it better to drink coffee black ?
Not necessarily. 
From a health point of view, black coffee helps much more than milk coffee. First by not containing milk and sugar, and then because the compounds in pure coffee work better without any add-ons.
But from a personal, and taste point of view, this is entirely up to you.
Many, many coffee fanatics insist that black coffee is the only coffee. The only way to really appreciate coffee, and you're a heretic for adding milk.
I say to each his own, especially since I've taken my coffee only black for the first 6 years I started to drink it.
I now add half a teaspoon of sugar, and a bit of milk to take the edge off.
There is some truth in what the fanatics say, but there's more to drinking coffee and appreciating its flavor than adding milk or not.
So lets start with the health benefits, since these are the only real reasons you should even drink black coffee.
Health benefits of drinking black coffee
There are many health benefits to drinking coffee, so I'm only going to touch on the most prominent.
Many of these benefits are dimmed by adding milk and sugar to coffee, since those impair caffeine somewhat. And caffeine is pretty much the driving force behind these health benefits.
1. Caffeine improves your energy levels and response time
One thing we all know (and love) about coffee is that it's our primary source of caffeine.
We drink it in the morning, before work, so we can withstand 8+ hours of socializing, bad tempers, funny moments, and general workplace shenanigans.
Now, caffeine does give us a wonderful energy boost, and keeps us on our feet the the majority of the day.
However it can only do so much, and after a few hours we might need another cup. Or a nap. apparently the brain si tricked by caffeine that its doesn't need to sleep, hence the energy boost.
We all love out cup of coffee, and treasure it for what it can do to our bodies, and help us throughout the day.
2. Black coffee somehow puts you in a better mood
Since there is no milk or sugar to interfere with caffeine, it's free to act upon our bodies as it was intended to do.
If you've never had black coffee, you don't really know this.
But the way black coffee works is that is also boosts your general mood. This is when you don't go overboard and drink too much, otherwise you risk getting jitters and cold sweats from the get-go.
We all have a certain tolerance for caffeine, and when we go above that threshold, our bodies become overstimulated. Hence the jitters, much like an adrenaline rush.
So drinking your coffee black will help you get to that better mood faster, as long as you don't drink too much.
Sugar and milk added to your coffee means your body has to dedicate energy to burning those elements, which is not going to improve your overall mood.
3. No sugar or milk mean less calories in coffee
Less calories mean less time on the treadmill, if losing weight is something you're after.
Any sort of carb will add more calories to the body, which may or may not need them.
Especially if you're getting a super-latte or frappuccino.
For reference, 100 ml/3.3 oz of 2% milk contains 43 calories.
Add that to the sugar in the coffee, and you can easily reach 100 calories or more, depending on whatever else you've added to the coffee.
Overall not a great deal.
So if you're not adding milk and sugar you're also avoiding those calories.
4. Coffee may lower risk of Type 2 Diabetes
One of the benefits of caffeine is also possibly reducing the risk for Type 2 Diabetes, as it may help the body respond better to insulin.
This is again due to caffeine and antioxidants that naturally occur in the coffee beans.
Of course, this is all much boosted by the lack of sugar and milk in the drink, which do not help diabetics at all.
5. Biggest source of antioxidants in the West
Ah, yes. Antioxidants.
Everyone's talking about them, and for good reason.
Antioxidants help the body perform better, by protecting it from free radicals.
There radicals have been associated with heightened risk of cancer development, and having a drink that cuts down on that is always helpful.
Antioxidants are found in many fruits and plants, but the most common way for Westerners to get their antioxidants is through coffee.
Another good source of antioxidants is green tea, whoever that's not as well known or consumed in the West as coffee.
Again, this is all true as long as you do not add any milk or sugar to your coffee.
(If you like this article so far, you can pin it to your Pinterest board by clicking the image below. The article continues after the image.)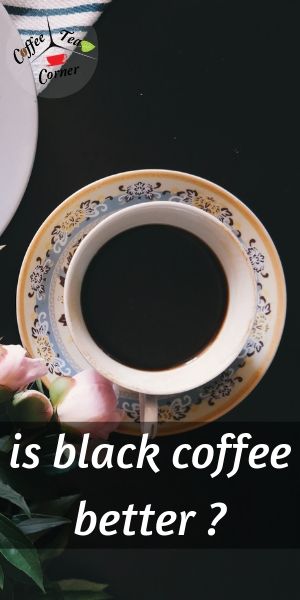 Black coffee is the best way to asses a cup's quality
This too, is true.
Nothing beats a gulp of pure coffee, to figure out its nuances, its origin, how acidic it is, whether you really like it or not.
This is what the coffee really tastes like, and it's important to be able to drink your coffee black, on occasions when you need to figure out its flavors.
Or if your host has no milk or sugar in the house.
Unfortunately people have gone a bit too far with why you should drink black coffee.
While it is the best way to sample coffee, and a great training for your taste buds, it's not mandatory.
Of course there will always be someone scolding you for putting milk in coffee. How dare you.
But that's life, and everyone's going to have an opinion.
It all comes down to how you like your coffee
Now, if you've always had your coffee with milk and sugar, then switching to black coffee isn't going to be easy.
It's going to be a process, and it might take anywhere form a few days to a few weeks.
I can help you get used to black coffee in 6 days, but sticking to black coffee takes more work than switching to it.
Look, I used to drink my coffee black.
It's how I started drinking it, and how I drank it for the first 6 years.
I started having it in the morning, before driving class. I was nervous as hell, and the class was early in the morning (for me at the time).
So I decided that the best way to stay focused and not panic was to have a cup of coffee in the morning. That's when I started drinking it regularly.
I started with black coffee, mostly because my parents had this awful espresso machine, that made the coffee bearable only if you never added milk or sugar.
Or at least, that was the only way for me to down it.
So I has black coffee, then when I went to college I kept drinking it black. There were many midterms where I would sit up the night before, cramming like my life depended on it, with a big mug of black coffee by my side.
After the fist 2 years, I don't remember how, I started adding a bit of milk and sugar to it.
I did a full 180 and had half coffee, half milk, and 2 teaspoons of sugar. Damn.
Now I've reduced it to half a teaspoon, and maybe 25% milk. But I often add some flavorings to my coffee, so there you go.
My point is that how you drink your coffee is entirely up to you.
Final thoughts
If you want to drink coffee for its health benefits, then you should drink it black. It's the only way to get the full health benefits, and avoid some extra calories.
But if that's not what you're after, and you just want to have a tasty drink, then by all means drink your coffee however you like it. As long as it doesn't endanger your health.
If you want to know more about coffee or tea, feel free to check the related articles below. Who knows what else you might find ?