Looking for the perfect gift for your tea loving friend ? No worries, I've got you covered.
The great thing is that there are so many tea-related items that you're bound to find something your friend will love.
I've compiled a lost of gift ideas you can get inspired from, and I hope you'll find something useful here. Onto the gifts, then !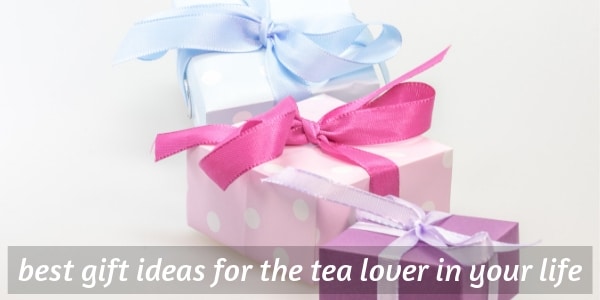 Actual tea for your tea-loving friend
What's the first thing you'd think to give someone who loves tea ? Tea, of course ! If you know your friend's preferences you and use those as guidelines and find some kind of brew that will hit the mark.
Or, you could nudge your friend into an adventure to find new tea types.
1. Blooming tea, set of 12 green tea flowers
Blooming teas have become very popular, and there's no doubt why.
They're pretty, they're flavorful, and there are so many to choose from.
For example these are tea balls are made of green tea, and a beautiful herb that will unfurl and present the tea as a flower to your friend.
All blooming teas are sewn, by hand, in China.
I recommend you get this for your friend if they have transparent tea cups, or tea pots, so they can actually see the tea flowering in front of them.
The tea if a green tea, and will have the smell, color, and taste of plain green tea.
You can check the listing on Amazon here.
Read Also:19 Gifts For Coffee Lovers
2. Matcha tea set, complete with matcha powder
If your friend is very much into green tea, and would love a refined flavor of this tea, then matcha is a great gift.
This wonderful set comes with a matcha powder of its own.
Matcha needs to be prepared and served in a certain way, which this set takes care of beautifully.
Your friend will receive:
a small bowl (cup)
a bamboo whisk
a whisk stand
the matcha powder
a sifter
a bamboo scoop
a bamboo tray to lay everything out on
This kit comes with instructions as to how to prepare the match, so your friend is bound to get a great cup.
The actual matcha powder included in this set is premium-grade, 50 gr/1.7 oz.
You can check the listing on Amazon here.
3. Assorted tea sampler from Tezo (6 varieties)
This tea sampler is a nice way to let your friend try out different tea types, both herbal and true teas.
This collection by Tazo has 6 flavors, and there are 20 teabags of each flavors.
Some are caffeinated, like the Earl Grey ones. Some a relaxing and caffeine-free, like the chamomile tea ones.
All in all, a nice collection for your friend to enjoy and remember you whenever they make a cup.
You can check the listing on Amazon here.
4. Herbal tea sampler for home-made remedies
If your friend is more of a herbal tea lover, then they're going to be very much in love with this tea sampler.
It's only got herbal tea, and it's got a wide range of them. They can be mixed and matched, so you friend can create new teas.
Each herbal tea comes with its own brewing instructions, and what it's good for.
Some teas can be great for relaxation, while some are better for treating an ailment. You friend's going to have most of them covered.
It'd make a nice gift for some one who likes to mix and match their teas, and try different things.
You can check the listing on Amazon here.
Tea books for those who love to sit back and relax
Does your friend like to sit down with a nice book and sip their tea ? The they might enjoy a nice book series about tea, while they sip their tea.
There are a few books I found that they might like.
1.
The Vintage Tea Party Book: A Complete Guide to Hosting your Perfect Party
If your friend was always the one inviting your for tea parties when you were kids, then they might enjoy this book on how to host one.
This is exactly what it says. It's a guide to hosting your own tea party, but in a grown-up, serious way.
It's got not only the guidelines, but also recipes that will go along well with tea and with the party itself.
There are many things this book covers, and your friend is bound to be impressed with it.
You can check the listing on Amazon here.
2. Tea Book - All Things Tea
If your friend would rather known everything there is to know about tea, in general, then they might like this book instead.
It's got the history of tea, tea blends how to serve tea, and how to brew it, everything.
Your tea loving friend is going to have a great time absorbing all the information, since this will easily become a coffee table book. Everyone's going to lay eyes on it, and at least leaf through it, guests included.
So if you'd like to gift something very informative and useful to your friend, then this will be a good option.
You can check the listing on Amazon here.
3. How to grow herbal tea at home
Does your friend love herbal tea ? Are they always talking about growing their own tea ?
Well then, this might be for them.
An illustrated guide on how to grow tea at home, what parts of the plant to use for an infusion, how to make a dried and fresh tea, and their properties.
This book covers both herbal teas and true teas, which comes in very handy when looking for a way to home-grow your own Darjeeling.
You can check the listing on Amazon here.
Tea novelty items, so your friend can show off their love of tea
Does your friend love all things tea ? Then they might lover some tea-related everyday items like a sock or a pen. Here's a few examples of what you can get someone who loves tea.
1. Tea posters, set of 4 to hand on walls
A set of 4 posters for your friend to hang up on their walls.
These will come in handy when decorating the place, or if your friend just wants to surround themselves with tea at all times.
The set comes in various framing options, so you can pick out whichever you think will go best in their home.
The posters themselves are reasonably large, about the size of an A3 sheet of paper.
Color-wise they time in great with a warm toned room, but will blend well with a neutral ones as well.
Or, who knows, maybe your friend likes to be super-creative and make new color combinations.
You can check the listing on Amazon here.
(If you like this article so far, you can pin it to your Pinterest board by clicking the image below. The article continues after the image.)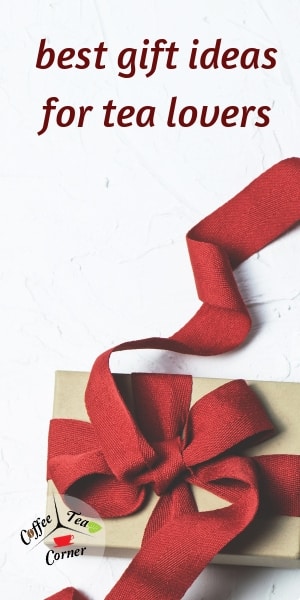 2. Tea shirt, so everyone will know how much they love tea
Here's a chance for your friend to express both their love for tea, and their love for bad puns.
This tea shirt is available in 3 colors (black, white, grey) and several sizes, so you're bound to find something your friend will like.
It's 95% cotton, so it will be a very soft and breathable shirt.
You can check the listing on Amazon here.
3. Tea socks, to make their intentions known
Does your tea loving friend require socks this holiday season ? Or in general ?
Then they could be strutting around in these nice ones. A beautiful pair, really.
They're also a request for tea, whenever they put their feet up. So you'll be morally obligated to brew them a cup everytime you see their feet.
But that's what friends are for, right ?
The teapots and teacups are a nice tough, in my opinion.
You can check the listing on Amazon here.
4. Tea coloring book, for adults, intricate designs
Finally, you can also get your friend a nice coloring book. So what if they're an adult ?
Doesn't mean their coloring days are over. They might even need a little practice, who knows ?
Jokes aside, these coloring books are a nice way for your friend to relax, and simply let their minds wander, while they enjoy a nice cup of tea.
The designs are intricate enough, so they'll be busy with a page or two for quite some time.
You can check the listing on Amazon here.
Tea brewing and storing items for your friend
You can always help your friend out by gifting them something very practical. Like a tea set or a teacup, it's going to be something they will actually use and like.
Let's look at a few options.
1.
Stovetop Safe Glass Tea Kettle (plus cups)
This kettle's got me thinking I should get one for myself, honestly. It's pretty much all you could ask of a tea set.
It's made entirely out of Borosilicate glass, which is actually a bit surprising for most people.
You can set it over direct flame, yes, but the kettle should be pre-heated before.
There are directions and instructions available in the tea set's packaging.
The set also comes with its own cups, 4 of them to be exact. They're double walled and will be easy to hold since they won't burn your hand.
You'll find that the kettle also contains a nice, deep infuser, which is going to keep the tea leaves away from the cup.
Be warned though, this set is a smaller one. The cups are fairly small, more like an espresso cup.
You can check the listing on Amazon here.
2. Tea infuser/tumbler
If your friend is a big fan of infusions on the go, then they're going to love this tea infuser/tumbler.
They can brew their tea in it, cold brew and hot brew as well. They can even make cold brew coffee if they like.
The tumbler itself is beautiful, and has a nice bamboo finish. It comes in a nice, dark, elegant casing which is going to make gifting this item even easier.
In terms in storing capacity, this tumbler can hold 18 oz/532 ml of liquid, which is about 2 good cups of tea.
You can check the listing on Amazon here.
3. Bamboo wood box, to store tea bags
If your friend's already got all the teas in the world, when they're going to be grateful for this tea box.
When you've got tea bags, you often get a few tea bags that are too few to keep the original box for. So they often end up in another tea's box, mingling more than they should.
Well, this is going to be good news for your friend. Now they can keep their teas organized, and know how many of each they've got, at a glance.
This tea box is made of bamboo, with a clear top, so you can see the contents.
It's got 8 sections, and each can hold quite a few teabags.
You can check the listing on Amazon here.
4. Tea cup with infuser
Finally, if your friend would just like to have a cup of tea, but hates cleaning up loose leaves, then they'll thank you for this cup.
It's a fairly large cup, with a nice strainer/infused that can be easily placed inside or taken out.
It comes in different styles, and you can pick out the one that would suit your friend best.
The cup also comes with a nice lid, to keep everything nice and hot, and also have somewhere to set the infuser on after you're done.
You can check the listing on Amazon here.
Final thoughts
So, you've just looked through a bunch of ideas on what to get someone who loves tea.
As for which gift is the best, that's up to you to figure out, and your friend to decide.
Whichever gift your pick out for them, I'm sure they'll appreciate it and be very grateful for the thought.
If you want to know more about coffee or tea, feel free to check the related articles below. Who knows what else you might find ?