Wondering if your kombucha is still alright ? It really depends on how you've stored it, and whether it was home-made or not.
There's a few signs you can look for to check if the fizzy tea's gone bad or not, so let's talk about those.
But first, we need to really understand what kombucha is, and what the 'going bad' process looks like.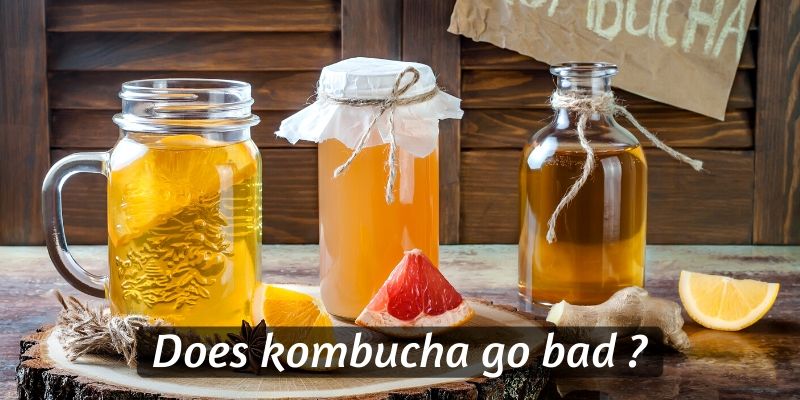 What is kombucha ?
Kombucha is nothing more than a fermented tea, usually made with black tea. There is sugar and a yeast culture involved, named SCOBY - symbiotic culture of bacteria and yeast.
That SCOBY is the reason kombucha is fizzy, why it's full of probiotics (much like pickles), and why some may find the drink terrifying.
The bacteria and yeast are very well controlled, and produce a batch of probiotics that help the gut and digestion.
Since this is a fermented drink, the taste will be a little different from batch to batch, as no two SCOBYs are the same and this influences the taste.
Kombucha is naturally fermented, so it's already 'bad'
Kombucha is a fermented drink, which means that from a traditional standpoint, it's already gone bad.
When milk goes bad, it ferments but if that process is controlled it turns into yogurt.
When wine goes bad, it turns into vinegar if given enough time.
Similarly, the kombucha is a form of tea that has specifically gone bad, in order to produce a new kind of drink.
So we can't use the regular means of determining if it's gone bad or not. But, there's ways to tell if it's still good or needs to be thrown out.
However all of those signs depend heavily on how well the kombucha was stored in the first place.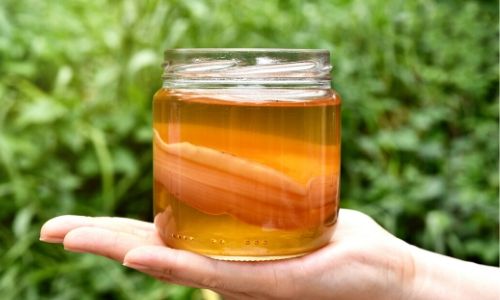 Storing kombucha can really alter its lifespan
How well you keep your kombucha will really help determine if the bottle in the fridge is still good, without even tasting it.
There are some general guidelines. They're not hard and fast rules, so please use you own judgement as well.
Also, if using sore-bought kombucha please check the 'best by' date. Often manufacturers process the drinks in such a way as to prolong shelf life, or make storage easier.
Please note that the times given in the following situations are guidelines.
This is because each batch of kombucha behaves a little differently than the others, and this will affect the overall storage times.
Here's the main situations you might find yourself in, and how well or how long the kombucha might last.
Home-made kombucha, room temp, unopened
Kombucha will always continue to ferment, and this is enhanced by heat and/or sunlight exposure.
This process is even stronger for home-made kombucha since there are no preservatives added, and the product is natural.
So, your fresh batch of kombucha should last about a week at room temp, if left somewhere in the shade.
Keep in mind that if your room temp gets routinely hot, it may affect the drink and turn it vinegary very fast.
In some extreme cases the carbonation levels may get too high and the bottle itself could burst.
Home-made kombucha, fridge, unopened
Fresh home-made kombucha can last for much longer in the fridge. It's the very low temperature that keeps things under control.
The bacteria and yeast are still active, but will continue to process very very slowly due to the cold.
So in short, unopened fresh home-made kombucha should last a few months in the fridge. Somewhere up to 3 months is the recommended maximum.
Any more and you risk altering the flavor too much.
Home-made kombucha, fridge, opened
Once you've opened the bottle of kombucha it won't last very long.
It should be consumed in a matter of 2-3 days, otherwise it may change flavor a lot, and possibly lose a bit of carbonation.
Please use a glass when drinking from the same bottle of kombucha for several days.
Everyone's mouth has bacteria and that's perfectly normal, but it also interacts with the bacteria already in the kombucha and may just ruin the probiotic effect, as well as the flavor.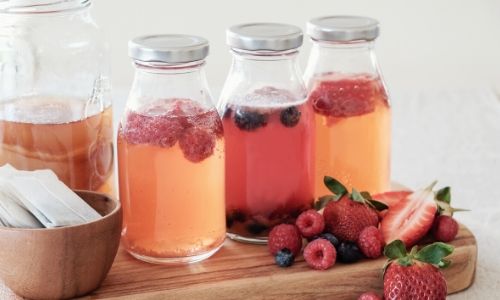 Commercial kombucha, room temp, unopened
All commercial kombucha bottles must state a 'best by' date, or some variation of it.
Look at the bottle you've bought and follow those directions. Most of the time it's safe to actually follow them even if they may sound a little odd.
If the company claims their kombucha can be safely stored at room temp fr 6 months, then it's probably pasteurized kombucha that's had probiotics added back in.
If the bottle has no such date, then simply put it in the fridge and take no chances.
Commercial kombucha, fridge, unopened
Storing commercial kombucha in the fridge will prolong its lifespan even more than the 'best by' date.
This is again because the very cold temperature slows down the chemistry and the bacteria and yeast will move very slowly.
Also, the 'best by' date is meant for room temp storage, and placing it in the fridge will help prolong that date by a few weeks to a couple months.
Commercial kombucha, fridge, opened
Any opened kombucha is meant to be consumed within 2-3 days after opening.
This includes commercial kombucha, so be sure to finish yours in time.
Signs there's something wrong with the kombucha
Alright, let's say you know how to store the kombucha properly but you still want to be sure it's safe to drink.
What are some sure-fire signs the kombucha's gone bad ?
1. Your kombucha's grown mold
Whether its opened or not, kombucha may grow some mold in some cases.
This happens mostly when a baby SCOBY forms, meaning those floaty bits are starting to coagulate into a new yeast and bacteria colony.
This is normal and happens over time.
But mold is not common nor is it safe. It may be a sign that the batch has been contaminated with something, or it may be the result of drinking directly from the bottle.
In any case, if you see any mold on the inside of the bottle or around the cap, discard the drink.
You'll tell apart the mold from the SCOBY because the mold is fluffy and blue-white, possibly black in some cases. The SCOBY is much like flan or pudding, and not fluffy unless in the liquid
Mold will not form under the liquid, but it may form right on top and cling to one of the sides of the bottle.
2. There's a bad smell coming from the bottle
Kombucha may not smell great to begin with, let's discuss that first.
But even if that's true, there shouldn't be a strong, acrid odor coming from the bottle either.
A very bad smell is a sign of the drink turning into vinegar, or it being contaminated by something.
It may smell when it has mold too.
3. Taste is overly acidic, like vinegar
Being a fermented drink, kombucha is going to be a bit acidic, yes. But if left to its own devices for too long, especially in warm(ish) temperatures it'll tend to turn into vinegar.
If you have the patience for it, you can really use this vinegar after distilling it.
But for most folks, they'll encounter the weird kombucha only when it's halfway towards vinegar.
Meaning it'll be too sour/acrid to drink, but still not vinegar yet.
You can either throw it out, or leave it at room temp and give it another week or so to really turn into vinegar.
Your kombucha is still safe if
Some things may be present in your kombucha that don't make a lot of sense at first, but in truth they're really harmless.
1. Floaty bits are okay, they're just baby SCOBY
If you've ever looked at a container of kombucha you've noticed there's some floaty bits around there.
That's alright, and it's only the baby SCOBY forming, which is normal.
Think of it like you would for vinegar. There's always some sediments on the bottom, and those are the beginning of the new bacteria/yeast culture.
It forms very slowly, and most bottles of kombucha are drunk before the new SCOBY even forms.
A kombucha with absolutely nothing in it, not even a little at the bottom is a sign that the cultures within have died.
If you want to mix the drink, make sure to not shake it. Instead gently roll it from side to side.
Shaking causes more carbonation and you could end up with a bursting champagne bottle on your hands.
2. Some batches may have less fizz
Since not all batches of of kombucha are the same, you'll notice that some of them are less fizzy than others.
Such variations are normal, and nothing to be worried about.
Carbonation is a result of the SCOBY and several other factors, and there's never going to be a repeat performance.
Conclusion
Kombucha is one of those drinks that really makes people wonder if they should drink it or not.
It really is a safe drink, but you have to mind a few important details and know that this is a fermented drink.
If you want to know more about coffee or tea, feel free to check the related articles below. Who knows what else you might find ?