Do you love Earl Grey tea ? Do you love milk tea ?
Then why not have both ?
If you're worried about the milk curdling, I've got your back. It turns out there's hope in the end.
Let's start with the biggest problem here: milk curdling when you add it to Earl Grey. Or at least, the assumption that it will curdle. Hold onto your hats, this might get a little technical.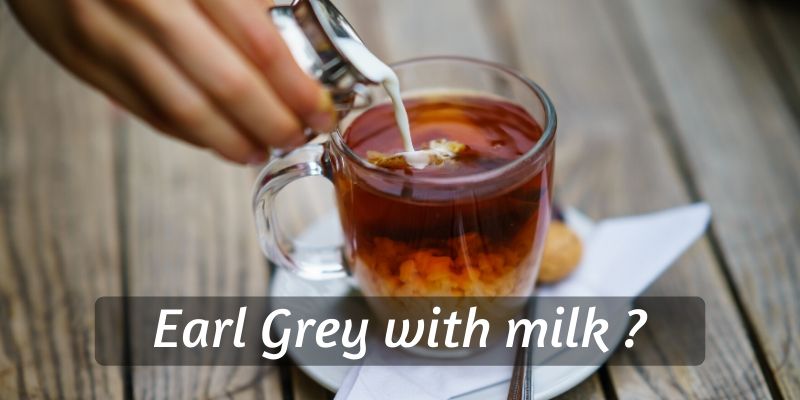 Will milk curdle when you add it to Earl Grey tea ?
No, milk should not curdle when you add it to Earl Grey. Let me explain. We need to cover a few key points here:
what actually goes into making Earl Grey
citrus essential oil vs. citrus juice
what milk is made of
effect of temperature on milk
Now, let's start with what a batch of Earl Grey tea is made of. All it is is black tea leaves (of any kind), that have been sprinkled with bergamot essential oil.
What everyone seems to forget is that it's the essential oil made of bergamot flowers. Not actual bergamots.
That was the original version, at least. It contained no citrus essential oil, since the fruit hadn't even grown then. The essential oil was extracted from the flowers from which the bergamots would later grow, for a sweet fragrance.
Some tea companies still use this method, and you might find their tea a little expensive. There's a lot of work to be done when making tea this way.
Another version is to use actual bergamot flowers and sprinkle them throughout the black tea leaves. Very similar to jasmine green tea in terms of production.
That being said, it's cheaper to use the essential oil of the bergamot fruit, rather than the flowers. Meaning, the tea is going to be more fragrant, and it's also going to require less essential oil.
In those cases, all the tea leaves are exposed to a mist of essential oil.
Citrus oils versus citrus juice
A very important distinction that needs to be made between essential oil made from the skin of a citrus fruit (of any kind), and the juice made from the pulp of any citrus fruit.
Essential oils are only flavorful, fragrant, and have nothing acidic in them that will lower the pH of milk. I'll get to that in a bit.
Citrus juice has a low pH, because it contains citric acid (2). All citrus fruits contain this acid to some degree, and this includes the bergamot fruit.
However, when the tea leaves are processed for Earl Grey, they are exposed to citrus oil, not citrus juice. Meaning there will be nothing acidic that will make milk curdle.
If you were to taste citrus oils, you'd say it tastes acidic. This is mostly due to us humans connecting the strong citrus flavor with a tingling on the tongue, even if there is nothing acidic on the tongue at all.
Think of shower gels or hand creams made with citrus oil. None of them are acidic, but they smell like they could be.
Now let's talk a little about milk, and why it might ever curdle.
Milk curdles in only two cases:
It's been left out too long, such as being forgotten on the counter overnight. Or, if it was warmed and then left unattended for several hours.
The second case is if its overall pH level has dropped (1), like if you added lemon juice or vinegar.
If you've ever made custard, you know that you're meant to add citrus oil or just the peel of a lemon to flavor it.
Conversely, if you're making mayonnaise at home and it's getting too heavy/thick, you know that adding vinegar or lemon juice will thin it out.
The same is true for milk and citrus juice or oil. Citrus oils are only flavorful, but not acidic.
Milk is made up of proteins, and fats (mostly). They float around in a substance we normally call whey, and usually they don't clump together.
This is because the pH (how acidic or alkaline) of the substance has a certain balance, and only if you add something acidic (again, citrus juice or vinegar) you'll notice the milk clumping together.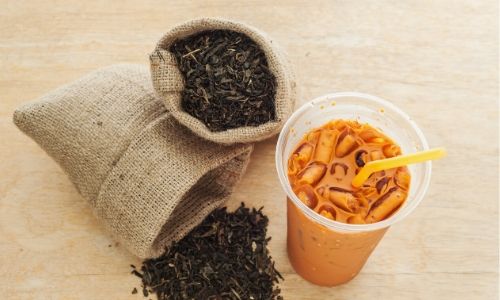 In shorter words
There is nothing acidic in citrus oils. 
Milk will not curdle if exposed to citrus oils, especially the very small amount that Earl Grey teas normally contain.
Hence, adding milk to a cup of Earl Grey tea is safe.
I'm aware that some folks might still be uncomfortable to pour milk into their cup of Earl Grey, even after the somewhat technical explanation in the past few paragraphs.
Sometimes we can't help it, especially when faced with the decidedly citrusy scent of Earl Grey.
That's alright, we'll go through what you can do to make sure your milk will not curdle when added to tea.
3 ways to add milk without it curdling
These 3 methods of bypassing milk curdling are no only easy to follow, but they involve things that you might already have at home. Here they are.
1. Warm the milk before making the tea
One method is to warm your milk before adding it to the tea, This has to do with the fact that you may scald the milk if you pour it into hot tea directly.
But if you warm your milk beforehand, it'll be safe since the temperature difference will not be too high.
A few seconds in the microwave will do, especially if you're making just one cup of tea.
And, if you want to be extra-sure your milk is alright, you should add the tea to the milk. So when making your cup of tea, make sure the milk is already in the cup and warmed, before you pour in the Earl Grey.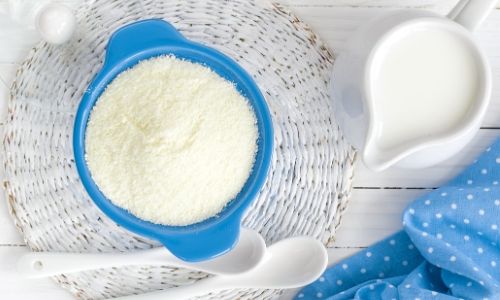 2. Swap real milk for powdered milk
Another thing you can do is to skip the liquid milk and just add powdered milk. This is very similar to making milk tea, by the way.
For this you can add your milk after the tea is already in the cup, or you can first add the milk powder to the empty cup and then slowly incorporate the tea.
Whichever way you do this, your milk won't curdle since this is milk that's been already processed.
You only get the proteins, fats and sugars from the milk, and there is nothing to actually clump together since there is no whey.
3. Use tea from a teabag, or a cheap tea
Another item we should discuss is that most teas, especially the cheap ones, are made just with food flavoring. Meaning the essential oils are are not natural, but synthesised in a lab.
Sometimes there are no essential oils used, only flavorings.
This all means that the bergamot flavor you might detect in cheap teas is not actual bergamot at all.
So if you're still worried the milk might curdle if you add it to Earl Grey, you can simply use a cheap version that has no essential oils.
This means you'll have to look for teas that come in teabags, since there are often on the lower end, due to production costs.
Conclusion
You can definitely add milk to Earl Grey tea, no worries. There is nothing acidic in citrus oil, only in citrus juice.
But if you really want to be safe, stick to warm milk or powdered milk.
True, Earl Grey with milk isn't for everyone, but if done right is can have the most amazing creamy/custard-like flavor ever.
If you want to know more about coffee or tea, feel free to check the related articles below. Who knows what else you might find ?
References:
2. Biological Activities and Safety of Citrus spp. Essential Oils