You're brewing loose leaf tea, and would like some guidance. No worries, I've got you covered.
If you've only made tea form a teabag until now, I understand loose leaves can be a little intimidating.
But we all learn, so today I'm guiding you through every tea type's requirements, so you can brew any tea you like.
Enjoy !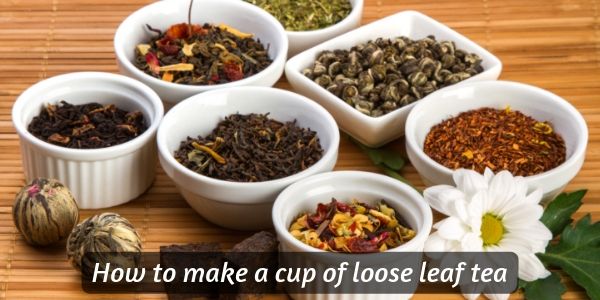 So what do you need to make a cup of loose leaf tea ?
To make a cup of loose leaf tea, you will need:
Hot water, preferably heated with a kettle. The exact temperature will be discussed later
Empty teacup or mug, use that to measure out the water
Loose tea leaves
Some sort of strainer or paper filter to strain/filter the tea
A timer of any sort
Now, you're going to have some very specific tea on your hands, which is going to need specific brew times and water temperatures.
So first, make sure you know what kind of tea you have. Green ? Black ? Herbal ? A blend ? This matters.
Now, in shot this is how to make the tea.
Heat the water to the specified temperature. Using water too hot can result in bitter tea, and overextraction. Using water too cold can result in a very watery tea.
Measure out how much tea you want to use for a cup (depending on the cup size). Add it either to the hot water and strain later, or the tea ball or filter and dunk it into the water.
Let the tea leaves steep for as long as necessary, then strain or remove the tea leaves.
You're done !
Sounds simple, huh ? Now let's get to the details.
How much loose leaf tea to add for one cup of tea
When using loose leaves, the rule of thumb is that you should use 2 heaping teaspoons of leaves for every 8 oz/236 ml of water used.
But some teas will need a little more adjusting, and now two teas will be exactly the same.
This means that one green tea might require 2 teaspoons of tea, but another might need 2 and a half, or something just under two.
In short, be prepared to test things out and see where you're comfortable with the flavor.
If you want to look at teabags, those are usually 2-3 grams of tea leaves per teabag, and they usually steep in 5 oz/150 ml of water, and produce a weaker brew.
If you're using any sort of herbal tea, including rooibos, I've noticed you will definitely need to add 2.5-3 teaspoons of dried herbs for 8 fl oz of water.
For rooibos this is going to give you a strong enough brew that you can add a little milk and still enjoy it.
How long to steep loose leaf tea
As for the steeping time, each tea will have its own requirement. So, we have:
White tea - start with 1 minute, and keep tasting every half minute. Don't go too far over 5 minutes.
Green tea - 2 minutes, max 3. Anything more and it turns bitter.
Black tea - 3-5 minutes. Keep tasting after 3 minutes for bitterness.
Oolong tea - 3-5 minutes. Keep tasting after 3 minutes for bitterness.
Pu'erh tea - 3-5 minutes. Keep tasting after 3 minutes for bitterness.
Herbal tea - 5 minutes. Does not really get bitter, but should not be oversteeped.
If you do let your tea steep for too long, you'll notice it's become bitter. This is true for the Camellia teas, which are all the teas except herbal tea.
Another thing that might happen is that the color might deepen, or rather darken. For example green tea might not look pale green or yellow, but rather a sort of brown if you let it brew for, say, 10 minutes.
Even white tea might get an amber color, which is very far from the whitish yellow you should be getting.
(If you like this article so far, you can pin it to your Pinterest board by clicking the image below. The article continues after the image.)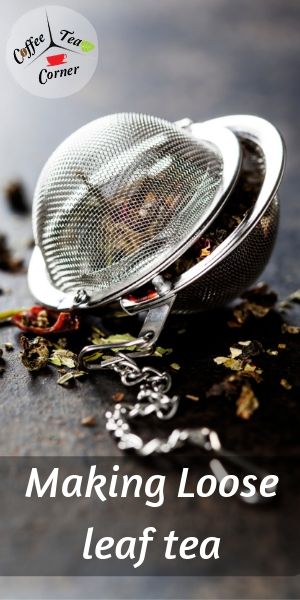 How hot should the water be
When brewing your tea you need to pay special attention to how hot the water should be. Using water too hot can result in bitter tea (again), and water too cold will get you a very bland cup of tea.
So, your water should be:
80 C/176 F for white and green tea. These are the most delicate and need this low a water temp.
90 C/194 F for black, oolong, Pu'erh, and herbal teas.
These are the only water temperatures you need to know, as they will work for all tea types.
If you intend to make cold brew tea, you can use simple, cold tap water. And you can still make a single cup of tea like this, but you should know that it's an overnight process.
Metal vs paper filters when brewing tea
Finally, let's get to how you'll be filtering your tea.
No matter what kind of tea you use, you;re going to need to filter it in some way so you don't ingest the leaves themselves. Tea leaves are alright to eat, but who would really want to do that ?
Anyway, you have a series of choices as to how to keep your tea leaves out of the brew.
You've got metal tea balls and variations on that system (like clamps), you've got empty teabags that can be filled with the tea you like, you've got strainers that you can pour the tea through, and you've also got some teapots that have a metal filter installed on the spout.
But which is better ? And would you believe there's a difference ?
In my experience, paper filters and metal strainers are alright.
Things like tea balls or infusers that have to routinely spend lots of time in the tea will,over the years, get a bit off and the tea will taste a bit more... metallic ?
It could be because it's always hard to clean that mesh like it was new, and after some time you're going to have to replace the whole thing.
So as far as I've noticed single use filters (like coffee filters or other similar items) are pretty much the way to go.
They will even block some of the tannins from getting into your cup of tea, so if it would normally get too bitter, filters are a bit more forgiving.
Tannins aren't necessarily bad, but they do ruin the flavor if you steep the tea too long. They're what gives tea its bitter, astringent taste.
Of course, those big, empty teabags are the best option as they're thin/porous enough to let the tea brew, but also not trap any of the flavor.
As for metal strainers, those are the second best option, since they only stay in contact with the tea for a few seconds, and then are cleaned. So, they will not impart any taste to the tea.
Final thoughts
Brewing your first loose leaf tea can be intimidating, but so rewarding.
I know the first time I did this I ended up throwing up the first cup, I left it for way too long. Of course I didn't bother to read the instructions on the tea box. Ah well.
I've learned since then, and I hope that you found some pretty useful info here.
If your first cup of tea doesn't go quite as planned, don't worry. Learn from it, and try to figure out where you went wrong, Water too hot, or maybe you used too much tea ? Try things out and see how you can adjust the method to your liking.
If you want to know more about coffee or tea, feel free to check the related articles below. Who knows what else you might find ?