Blue tea, or butterfly pea flower tea, is all over the internet lately. It's not a common tea, at least not anywhere outside of Southeast Asia.
But thanks to friendly food bloggers, travel bloggers, and worldly curiosity sites, this wonderful deep blue tea became the next big thing.
Naturally, not terribly much is known about blue tea just yet. But give it a couple more years and I's sure we'll get to know it very well.
This post contains every scrap of relevant info I've found on the topic, and will be updated as more news surfaces.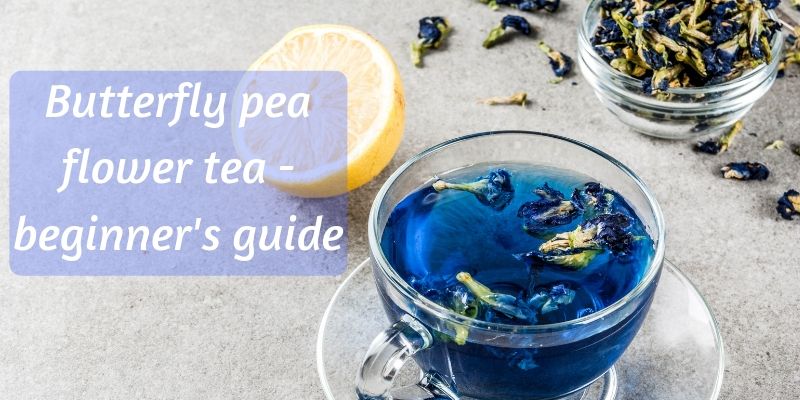 What is blue tea ?
Blue tea is a herbal tea (or tisane) made from the flowers of the butterfly pea plant. You need the dried flowers for the tea, and it's easy enough to make at home.
The deep blue color is the most striking feature of this tea, and it's entirely from the flowers themselves, since they bleed out a lot of color when steeped in hot water.
It's got a woody, earthy flavor, so not terribly fruity or flowery, despite the pretty color. One of the things that caught everyone's attention is how the tea changes color from deep blue to deep purple when lemon juice is added (or any acidic element).
You won't find the butterfly pea flowers very easily on the market, but they can be found at online retailers and I believe this tea will eventually make its way into the Western market in a few years.
If you can't find the flowers, you might be able to find them available as a fine powder to use in dyes or as food-safe coloring.
Where does blue tea come from ?
This blue tea is very common in Southeast Asia, about as common as chamomile tea is in the West (especially Europe). It just never became 'a thing' until a few years ago, and now everyone wants to try it.
It's common in several countries, such as Thailand, Indonesia, Philippines, Malaysia, Laos, Vietnam, to name just a few. For a clearer idea, pull up a map and take a look at the many island countries directly above Australia, below India, China, and Japan.
So this is where the tea comes from. The flowers grow on vines that produce actual, edible peas.
In Southeast Asia it's used both for cooking and for drinks, since it lends its beautiful color to anything it touches (provided the item is hot or at least warm).
You might find it very often in Ayurveda inspired recipes, since this flower is widely used in many parts of India, and also in some of their teas.
Of course, this means that if you're not from Southeast Asia, or have no personal connections in that region of the world, it's not going to be easy to find these dried flowers.
How or where do I find blue tea ?
As mentioned before, actually finding this tea on the market isn't exactly easy. This is because it's an international product, and nearly in each case it has to be shipped from Southeast Asia, mostly from Thailand.
So do expect a longer shipping time. Some has a couple of weeks, some had 2 months. It really depends on where you're ordering from, and how much they have in stock, and how long the shipment takes to clear through customs, and so on.
Until this butterfly pea flower tea becomes a common item, there won't be many options to get your hands on it. Ordering online seems to be the way to go for now.
For example this set of dried butterfly pea flowers from Doi Thai comes in a 100 gr/3.5 oz pack, all the way from Thailand. The product is original, and will offer you that strikingly blue tea that you're after.
The flavor is rather earthy, as opposed to flowery. But it's a nice combination if you add a bit of honey and lemon to it, and it's also great as an iced tea.
You can find the listing on Amazon here.
How to make blue tea at home
Making blue tea from butterfly pea flowers is easy enough, since this is a herbal tea and does not require any special steps.
What you should know is that this tea, like hibiscus tea, will stain your dishes if it gets the chance. So make sure you brew it in something that has no porous surface, and no enamel at all !
So using glass, very well glazed ceramic or porcelain, and stainless steel is alright. Anything else might just get a permanent blue tinge.
This tea will fool you if you're going to guess if it's done or not by looking at it. It turns blue very quickly, so you're meant to actually use a timer.
I suggest going by the usual method:
2 teaspoons (8-10 flowers) of dried butterfly pea flowers
9 oz/266 ml hot water (90 C/194 F)
kettle or pot to boil water in
tea mug
some sort of filter or strainer
You won't really find this tea in pre-packaged, teabag form since it's not a very well known tea in the West just yet. Give it a few more years and it'll probably get there.
So, you'll need to heat the water using a kettle or a pot to boil it. Don't microwave it, since it won't be evenly heated through and you might just get exploding water.
Plus it's much easier to monitor the water temperature if you're steadily increasing it by boiling, meaning you can even stop before it gets to 100 C/212 F.
If it seems easier, you can just bring the water to the boiling point, turn the heat off, and then let it sit for 2 whole minutes.
Once your water is hot enough, you'll need to add it to the dried blue tea flowers, or the flowers to the water, depending on how you're brewing.
The best way to actually brew any tea if it's a single serving, as far as I've noticed, is to brew directly into the tea cup or mug. This means using a filter in the tea cup, and this way you won't really lose any brewed tea.
Plus you can just remove the filter when you're done steeping.
For example this porcelain tea mug by Sweese is a good mug for this. It's a large mug, about 15 oz/440 ml so you're going to get plenty of tea. And it comes with a stainless steel metal filter inside (removable), and a porcelain lid to keep your tea hot.
The lid also doubles as a coaster or trivet to hold the used filter/strainer).
It comes in several colors, so you can pick whichever you like. You can find the listing on Amazon here.
So once your water and flowers are mixed, you'll need to let them steep for about 5-10 minutes. No real point to letting them longer than that, the flavor will mostly be the same, as opposed to ginger which gets stronger the more you let it steep.
Once it's done steeping, remove  the filter/infuser, or strain the flowers, depending on what method you used.
And you're done, you've just made blue tea !
Adding lemon to blue tea turns it purple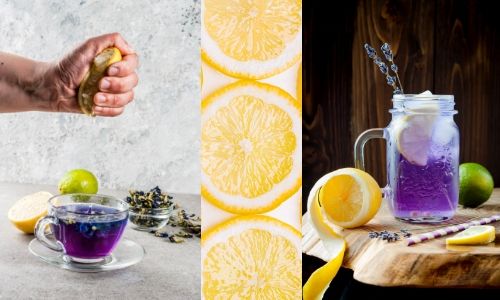 You should end up with a striking blue infusion, and you can add a little bit of lemon juice to change the color to a nice purple. The more lemon juice you add, the purpler it gets.
The flavor won't improve, unless you're a fan of hot lemon juice.
You can also change this tea's color (and part of its flavor) by brewing it with hibiscus flowers. This leads to a very reddish purple kind of color, since hibiscus offers a bright red infusion to begin with.
Blue tea health benefits and side effects
Not very much is known about blue tea, and reputable sites or publications haven't really issued any studies or science-based health benefits on this tea.
But, I have found a few benefits perusing the internet. Keep in mind that this is a 'new tea' by Western standards, and some of these health claims haven't been verified, or are simply word-of-mouth. Here's what I've found.
Blue tea seems to help with weight loss and water retention
This happens because blue tea seems to have a high antioxidant count, which seems to help with burning belly fat, which in turn helps reduce body weight.
Also because of the EGCG (epigallocathecin gallate) naturally present in blue tea, the liver is protected from fatty liver disease. This prevents further body fat gain.
EGCG is also present in green tea, since it's actually the chief antioxidant, responsible for many of the health benefits also found in green tea.
The way blue eta helps with water retention is again through its antioxidants, which have anti-inflammatory and diuretic properties. This helps shed excessive water retention, and cleanse the body as a sort of detox process.
Of course, these health benefits can't really take hold if you only drink one cup of blue tea today, and another one 2 weeks from now.
As with any health benefit, especially from a plant-based source (as opposed to medicine), consistency drinking blue tea is the key to actually achieving its health benefits
Blue tea helps reduce fever, inflammations, and might help relieve pain
This is due to the anti-pyretic (fever reducing) effect of blue tea, since this is essentially an extract from these butterfly pea flowers.
So, in a study in the field of Phytomedicine it was noticed that blue tea actually does help reduce internal body temperature in fever cases.
This study was done on albino lab mice, and they had a fever intentionally induced to see how they would react to different doses of butterfly pea flower methanol extract.
The doses ranged from 200 m/kg of body weight (since lab mice are so tiny) to 400 mg/kg, and it appears that all doses were helpful in reducing internal body temperature and fighting the fever.
The effects of the extract lasted for about 5 hours after it was administered, and it was comparable to Paracetamol.
It seems the way blue tea works is by naturally expanding the blood vessels, thus allowing the body to cool off better.
Blue tea helps improve eye health
The same properties that make blue tea helpful in reducing fever - increasing blood flow to extremities and allowing for a better cooling - also reaches all the way to the eyes.
This way it also helps reduce some eye fatigue or strain, even blurry vision, and it's actually commonly used for such problems in Bali and Indonesia.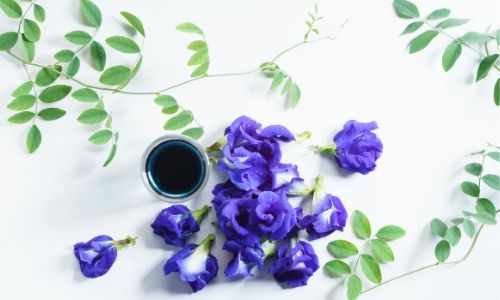 Blue tea helps reduce inflammations
Increased blood flow also has the benefit of helping reduce inflammations, meaning it may also help in cases of common cold (nasal congestion), also also help with bouts of coughing, as well as pain relief in cases of muscle strain.
Many of the health benefits of this tea are based on how well it increases and improves blood flow wherever it needs any help.
Blue tea may also improve cognitive function, and help with memory
Several tests run on lab mice and lab rats seem to point that a certain compound naturally found in blue tea (acetylcholine) helps improve cognitive function though improved memory, even when the animals were subjected to stress factors.
Improved memory seems to have a long-range impact, lasting for up to 30 days.
Exactly how much better the mice's memory became is not clearly shown, but the results suggest that the normal levels of acetylcholine in the hippocampus (where knowledge is stored) doubled and sometimes tripled when the butterfly pea flower extract was ingested.
It also seems that the root of the plant is more powerful in this respect than the flowers themselves. (1, 2, 3)
As of yet no clear side effects have been found for butterfly pea flower tea. Perhaps further studies are required.
Does blue tea have caffeine ?
No, blue tea has no caffeine at all, since this is a herbal tea. Any caffeine you might find in this tea is present because it was added intentionally, or because the blue flowers are mixed with a tea that does have caffeine, like black or green tea.
In such a case, the tea pack should have a label clearly stating that the tea does have caffeine. If it doesn't, then it does not contain caffeine.
Conclusion
Butterfly pea flower tea seems to be on everyone's lips (literally sometimes) lately, and it's quickly becoming one of those things you feel you have to at least try, if not get into completely.
After all, that blue looks amazing, and there's always something exotic about blue drinks or foods.
I hope this guide managed to give you the run down of what's what with blue tea, and that you'll enjoy your cup of blue tea, if you ever make one.
If you want to know more about coffee or tea, feel free to check the related articles below. Who knows what else you might find ?