If you're looking for the perfect way to drink black tea, let me stop you right there. There is no definite 'perfect' way of drinking black tea, as we all like what we like.
Some may agree with the old way of drinking tea, some might like to add everything to their cup.
There are some combinations you can make, and I'll help you navigate through them. You can pick the one that works best for you, and set a teapot on the stove.
But first, let's start with the basics, so we know what we're tweaking here.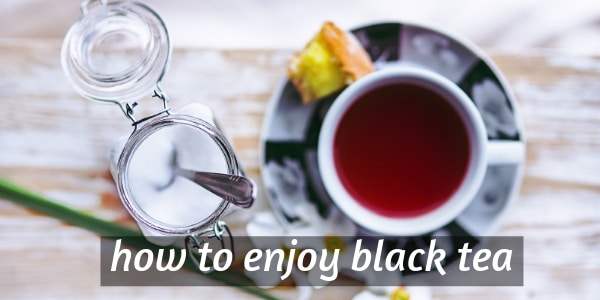 You can flavor and tweak your black tea how you like it
You can always add something to your cup of black tea, like milk or rose buds or a few springs of mint.
No one's going to stop you from experimenting with your tea.
I'll walk you through the main types of flavorings you can add to your black tea, and give you a few options of teas that are already blended with other flavors.
1. Add milk and sugar to black tea
The most common things to add to a cup of black tea, milk and sugar are in almost every person's kitchen.
We all have a bit of sugar stashed somewhere, in case we need to bring out the flavor in a drink. And in black tea it serves to mellow things out.
If you're looking to add milk, make sure you don't add actual cream to your tea. It might sound like a good idea, but it's not.
The problem is that black tea, no matter how strong it is, isn't going to hold up to cream. The cream will overpower the tea, and you'll be left with a drink that's very hard to swallow.
A thin film of fat will form on top of your tea, and the tea will be too 'thin' to stand up to it. Even coffee doesn't always go with cream.
When adding milk, make sure you add just a little bit, and it's whole milk.
This is because adding too much milk will mute the tea flavor too much.
And also because whole milk tastes more like milk, as opposed to skimmed milk or 0.1% which is often just flavored water at that point.
So if you're looking to add milk to and sugar to a black tea, I suggest you get a breakfast-type tea. This is the kind of black tea that's going to be easy to find, everywhere.
It's pure black tea, often made with a blend of several types including Assam.
Of course, breakfast tea is meant as a sort of light replacement for coffee, since it was what builders and heavy-labor workers in older times used to drink to get some strength in the morning.
Aside from the large British breakfast.
A good example is this one, from The Republic of Tea. It's an Assam black tea, organic, and will brew 50 cups as there are 50 tea bags inside the pack.
It's going to be a strong enough tea, just follow the instructions on the pack and you'll be fine.
You can add the milk and sugar as you like, or try it out plain at first, so you can get a feel for the taste of this tea.
You can check the listing for this tea on Amazon here, and read the reviews as well.
Read Also: What Is CTC Tea ?
2. Fruit is often a great way to enhance black tea
Another way to make your black tea taste great, if you've got a plain one, is to add fruit.
As dried fruit, like little bits of mango or pineapple or strawberry, or whatever fruit will work best for you.
Just be warned that fruits taste different when hot, as you'll taste the flavor in your tea.
For example hot strawberry is different from cold strawberry, and can seem too strong.
You can find these fruits in almost every supermarket, where the cereals are. They're small, dehydrated cubes of fruit, and you can usually get as many scoops as you want. You can even add them to your morning cereals or to a muesli mix.
Add them to the tea leaves as you're brewing your tea, and you've just made your own tea bland ! It won't be as great as a properly made tea blend from a tea master, but it'll be very close.
Of course, you can add fresh fruit if you like. The slice of fresh lemon or orange will go great with a plain black tea, and be very welcome in winter months.
Add a stick of cinnamon in there and you're getting very Christmasy.
Adding milk to such a drink is obviously going to be a bad idea, but it could maybe work with a plant-based one like almond or rice.
Or, as a shortcut, you can always opt for a pre-made tea blend. When it comes to fruity black teas, I tend to go for either strawberry or pineapple since I think those really lift a drink.
For example this tea's got a blend of mango that's going to lift the whole drink.
The taste of black tea will still be there, but the mango will make it much more enjoyable. It's one of my favorite combinations, since I very much love mango, pineapple, and papaya in pretty much anything.
There are other fruit combinations for this black tea, available at the vendor's page.
You can check the listing for this tea on Amazon here, and read the reviews as well.
3. Flower petals offer a great scent and flavor to your black tea
Another option, if adding milk or fruits isn't your thing, is to go with flower petals, or buds.
Rose buds are a very common ingredient in black tea blends, since they go so well with the malty black tea. No milk there, though.
Cornflower is another one I've seen often, as well as jasmine. Oh, jasmine black tea !
Or, you could make like Earl Grey and add some bergamot buds or dried petals, if you have some on hand. If not, then plain orange blossoms will do.
Cherry blossoms could work as well, as would lavender.
Almost any of these flowers can be found in spice shops, or tea houses as spices to add to your tea.
You'll need to add them to the tea leaves as you're brewing your tea, and they will work just like the dried fruits.
For example this tea is a nicely blended Ceylon (Sri Lanka) black tea with jasmine buds.
You'll find a beautiful jasmine flavor over the black tea leaves, and this will make the whole drink more delicate, and a bit softer tasting.
Adding milk tot his tea isn't recommended, even if it's a black tea. The jasmine would be faded then.
You'll find this tea can get you many cups, and you'll enjoy actually seeing the jasmine buds among the tea leaves.
The metal tin it comes in is a nice touch too.
I've had teas from Basilur before, and found them to be strong enough. So I think you'll enjoy this one as well.
You can check the listing on Amazon for this tea here, and read the reviews as well.
4. Add spices to your black tea
Finally, if you're into very spicy/flavorful drinks, you can add some spices to your tea.
This will turn it into a chai, which is also the Hindu word for 'tea'.
But, chai usually consists of a tea type - black, green, white - mixed with some specific spices. The exact spices vary from family to family and region to region, but there are a few common ones.
If you want to take this route, then you can add cardamom, cinnamon, star anise, ginger, black pepper, cloves, chili seeds, cumin, and any other spice you might like.
Be warned that this is a strong drink, and will be overwhelming at first.
You can add milk to this, both dairy or plant based. I recommend dairy, and whole so you can balance out the strong spices.
I've had teas like this, and they were always walking the line between to strong and tasty for me. It's something I heavily associate with winter, but not Christmas.
You might like it too. Just know that if you do add black pepper or chili seeds, your drink will be actually hot like the food.
If you're looking for a recommendation then this one will be a good fit.

It's Ceylon black tea, and it's blended with cinnamon, orange peel, ginger, coriander, cardamom seed, star anise, cloves and black pepper.
That's a lot of spices, so brace yourself for a strong cup of tea.
Milk can be added here, just a bit though as it might not be to everyone's liking. I added a bit in my spiced black tea, though mine had no orange peel.
You can check the listing for this tea on Amazon here, and read the reviews as well.
(If you like this article so far, you can pin it to your Pinterest board by clicking the image below. The article continues after the image.)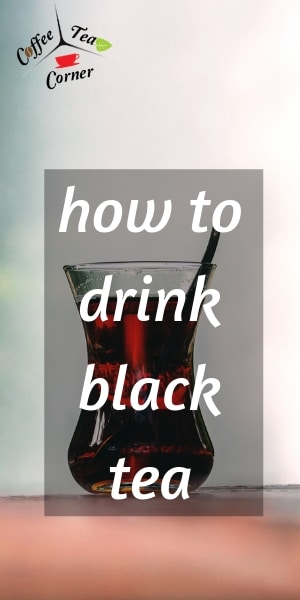 The way you brew your black tea is the key
Ever since tea became a thing, it's been long debated how to drink it.
But, the actual question is how do you like to drink it ?
As in, the way you brew your cup of tea will make a world of difference in whether you want to add something to your cup or not.
For example a very harsh and strong tasting tea will make most people reach for the milk. If that's you (it's me too) there's no need to feel weird about it, because some think you can't appreciate the beauty of this tea.
Some people might like their tea only if it's very strong, and has a definite malty taste. This reduces everything to how strong you brew your cup of tea, since that will dictate a lot.
For example I like my black tea strong, but only so I can add some milk and sugar. If I ever brew a lighter cup by mistake, I don't bother adding anything to it since there isn't as much of a kick in it.
But how strong should you brew your black tea ? As strong as you like. There is a basic recipe, though.
You'll need for one cup of tea:
90 C/194 F water, 9 fl oz/266 ml
2 heaping teaspoons of loose leaf black tea
strainer or empty tea bag
your favorite cup, which can hold 8.5 oz/250 ml of brew
Now, you'll need to add the tea leaves to the hot water. Whether you use a strainer to strain the brew into a cup later, or use an empty tea bag from the beginning and remove it later, is up to you.
The brewing time for such a tea is 3-5 minutes, depending on how strong you want your tea, and what kind of black tea you've got.
The longer the brewing time, the stronger the tea, but you also risk it becoming overextracted and bitter.
Also, Assam black teas tend to be maltier and stronger in taste, and as such should be steeped for less time than other black teas.
Once your steeping time's done, remove the tea bag, or strain the tea into the cup.
You should be left with a dark red/amber drink. Generally, the darker or more intense the color, the stronger the tea will be. Do keep in mind that different black tea varieties will have different hues.
Some will be more towards red, some will be rather amber. Dark brown is never a great drink.
just to be sure, you should place your drink in a clear cup and look at a light source through the glass. That's the true color.
Strong black tea goes great with milk
So if you've brewed your black tea very strong, then you can always add milk and/or sugar. It's much like drinking coffee, really. Some like their coffee black, and some like their black tea... black. Or plain.
However many add milk, even if it's just a dash. This is the well known British way of drinking tea, along with a little bit of sugar.
This is because the strength of the black tea is very harsh sometimes, and milk will smooth things out.
Of course, you can add whatever milk type you like, be it dairy or plant-based.
Be warned though, that adding dairy to your black tea will reduce some of its benefits.
Light black tea goes well with a bit of lemon
If you've brewed a light black tea, then it won't really need any milk. It might need a bit of sugar, though.
Often light black tea can be enjoyed on its own, since it's a delicate enough taste that it's going to be easy to handle.
However if you can't stand the taste of plain black tea, even a light one, one of the most common things to add is a slice of lemon.
Not lemon juice !
Just a slice of lemon, which will impart some of the beautiful lemon oil to your tea, and give it a nice aroma. It'll distract you from the black tea flavor just enough to make it great.
This was just and example, and you'll also find a lot more ways of drinking black tea discussed below.
Just know that the strength of your black tea will really dictate what goes best with each cup. No real point in adding milk to light black tea, since you'll lose the flavor entirely.
There is no traditional way of drinking black tea
Let's settle this as well. There isn't a traditional way of drinking black tea, as well as there isn't a 'best' way.
India has its own way of drinking black tea, as do the Brits. The Chinese tend to drink their tea plain, with absolutely nothing added. Not ever sugar.
The Brits almost always add a dash of milk to their black tea, sugar not so much.
Indians don't add milk as much to their black tea, but they often spice it with a certain blend of spices, like cardamom, cinnamon, star anise, cloves, pepper, ginger, etc.
So if you're looking the the 'traditional, authentic' way of drinking black tea, you'll have to ask each country in particular how they like their tea.
I for one can't drink black tea on its own, with nothing added to it. I usually go for black tea blended with fruit or flower petals, and add half a teaspoon of sugar to that.
If it's a plain black tea, I always add milk to it.
I'm neither Indian, British, or Chinese. I'm East European, and black tea isn't a very sought-after drink around here. We're very much into herbal teas.
It might have something to do with my preferences, I don't know.
You might like your tea very different from mine though, and I hope you'll find the next portion of the article helpful in that way.
Final thoughts
I hope I managed to help you out here. I know black tea can sound like a very plain drink, and often the taste of a cup of simple black tea is... well, underwhelming to an untrained person.
I know I was very disappointed in it when I first tried it in my early teens. The again, I was very friendly with soda and other sugary drinks. I've since refined my palate.
In truth, I think the best way to figure out the best way to drink black tea for you specifically is to try things out. You'll never know if you like it or not until you try it.
Even the combinations that sound horrible from the start. Give everything a shot and you'll get to know your tastes much better.
If you want to know more about coffee or tea, feel free to check the related articles below. Who knows what else you might find ?