Mint tea is a long standing favorite of mine, and mixing it up with other herbs or flowers always makes it taste even better.
But what goes best with mint tea ? There's many combinations you can make, but some work better than others, taste-wise.
There are health benefits to these combinations, but I'm going to focus on the taste more.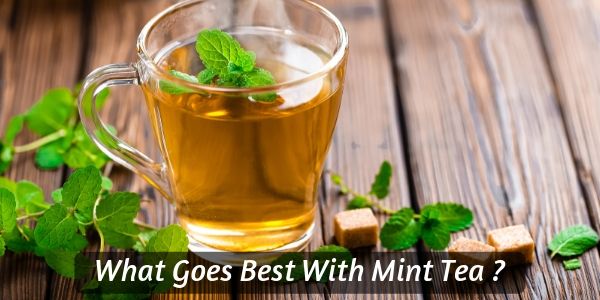 1. Lemon goes great with mint tea
This is a classic, and possibly not a surprise for you. Still, a reminder never hurt anyone.
Adding a slice of fresh lemon will instantly lift your cup of mint tea, because the fragrance of lemon oil will help improve your mood.
Lemon is always a friend of pretty much any tea, maybe not rooibos though.
But lemon's been shown to improve mood, and boost energy, simply be being a more 'optimistic' kind of scent.
Actually this is very true with pretty much any citrus fruit, and this is why you're always feeling great whenever you walk past a smoothie stand.
To make lemon and mint tea, you'll simply make mint tea s you normally would.
It doesn't need a long brewing time, 5 minutes at 90 C/194 F is enough.
Once your mint tea's brewed, remove the teabag (squeezed or not) and add your slice of lemon while it's still warm.
Lemon juice is a no-no, as it will change the taste of mint in a way you won't like. Warm lemon juice is never okay.
As for the lemon oil, make sure you bend the lemon rind a bit before you add it to the cup of tea. This will release the essential oil faster.
Your tea will taste delicious, but be warned that the essential oil will evaporate as the tea cools off. It's just how flavor works.
2. Green tea gives mint tea a health boost
Another thing you can try with your cup of mint tea is to brew it with green tea.
This will bring all the health benefits of green tea into your already energizing cup of mint tea.
It's also a good way to get used to green tea if you've never had it before. After all, green tea is often too harsh in taste for many people, and it takes tome getting used to.
So, you can brew the two together. The problem is that green tea is a very sensitive tea to begin with.
It needs to be brewed for exactly 2 minutes, at a 80 C/176 F temperature. But that's too short a time for mint tea.
So what I suggest is that you brew your mint tea as usual, for 5 minutes, and only add the green tea in the last 2 minutes.
This works better if you use loose leaf green tea, rather than a teabag. You'll get more of the health benefits, and a better flavor.
(If you like this article so far, you can pin it to your Pinterest board by clicking the image below. The article continues after the image.)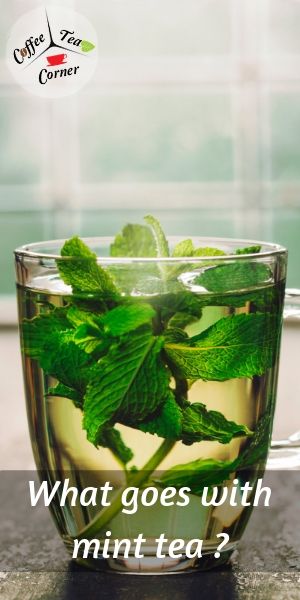 3. Ginger will lift mint tea's flavor
Another popular option is to brew green tea with ginger.
Ginger has a lemony smell and taste to it in the first place, which places it among the most obvious favorites to pair with mint.
You're also adding the energizing and health-improving effects of ginger when you make this combination, so aside from taste you're taking care of your body.
Another thing that happens is that ginger is a great digestive aid, and mint is good for easing stomach pains and nausea. So if you know you have this sort of problem, you might benefit from this combination the most.
When brewing ginger, you need to be careful. You need the ginger essential oil found in the ginger root.
This means that your best shot is grating the ginger into the hot water and letting it steep for several minutes.
If you were making a pure ginger tea, you'd need about a thumb-sized piece for one cup of 8 oz/236 ml. Though that can get a little spicy.
So if you're adding ginger to mint, then I recommend you only use half a thumb of ginger.
Ginger also needs a longer steeping time than mint, about 10 minutes per thumb sized piece.
Bring your water to a boil, and turn the heat off. Immediately add the grated ginger, and let sit for 5 minutes, partially covered.
In the final 5 minutes, add your mint leaves, and let steep for 5 more minutes, reaching a total of 10.
This mixture definitely needs to be strained, since the grated ginger will flat around in you cup and end up in your mouth when you lest want them.
4. Honey is always a favorite with mint tea
Another famous pairing for mint tea, honey is bound to make your tea taste better.
This is not only due to the sweetness inherent in honey, but also due to the specific flavor it has.
Depending on what kind of honey you've got (multiflower or one specific type, like lindenflower honey), your mint will take a whole new aroma.
This is also useful for sore throats, since mint tea will numb the throat and the honey is a good antiseptic and anti inflammatory aid.
When you add honey to tea, you need to make sure the tea isn't hot. It needs to be warm, about 40 C/104 F or less. This is because honey loses its health benefits when exposed to high heat, and adding it to hot tea will be pointless.
So brew your mint tea as usual, possibly using a lower temp water.
Then after the tea's done brewing, let it cool for about 10 minutes. It should cool down sufficiently for you to be able to add in the honey without damaging its structure and health benefits.
This can also be done in conjunction with the other flavorings I talked about earlier. For example mint tea with lemon and honey is a famous combination, and it's always going to be a people pleaser.
5. Add lavender for a relaxing mint tea
Finally, you can brew your mint tea with some lavender flowers.
There is a connection between mint and lavender, as both are usually found on spa resorts as aromatherapy items, and making tea from one or both of these plants does a lot to help people relax and calm down.
Now, lavender is a very strong flower, so you won't need to add terribly much to your cup of mint tea.
I suggest you add about 75% of the usual amount of mint you'd like in your cup of tea, and add the other 25% as dried lavender flowers.
Both plants have the same steeping time, so steeping for 5 minutes will be enough.
Your tea will end up quite dark, as both mint and lavender give an orange/amber tone to the brew.
Of course, if you'd like to add a bit of honey to all of this, it would turn out as an even better cup of tea.
The lavender and mint combination will help you relax after a long, hard day and you can even drink this combination in the evening, as a bedtime tea. And neither mint nor lavender contain any caffeine, so that's another bonus.
Cold brewing mint will make it even better for iced tea
What if you decide to cold brew mint tea ? Honestly I think that would be a great idea, especially if you plan to serve it over ice and with a few slices of lemon or other fresh fruits.
For cold brewing, you will need more mint than usual. Cold brew is more of a concentrate than anything, and as such you'll need to add more mint leaves to make the concoction powerful enough.
Also keep in mind that your brew has to be strong enough that the ice won't dilute it too much.
As a general steeping time, cold brewing takes anywhere between 10 and 16 hours for tea. You can let your tea steep more if you want, but there's no real reason to leave it for, say, 20 hours.
If you'd like to add any fruits to your tea, I recommend you slice them up and add them into the brew about an hour before serving. Leaving them in more than that can lend a stronger flavor, but it will look pretty bad and it might affect the brewing process.
I recommend adding lemon and lime slices, and make sure you bend the slices around a little, to release more of that citrus essential oil.
The mint tea I'd recommend
Now, there's two main types of mint out there. You'll find both spearmint and peppermint.
The most common and tasty one is peppermint. Spearmint had an overly cool tone to it, which I can sometimes be too much for me.
Still, there are lots of fans of both spearmint and peppermint, so I'll leave here a recommendation for both mint types.
Peppermint tea
You'll find peppermint tea easily enough, and getting yourself a large stock of this herb means you'll have plenty of it to go around all year.
This is especially useful if you plan on cold brewing mint tea for the hot season, since you'll be using quite a lot of it.
This particular peppermint is from Frontier, and they tend to package their herbs in fairly large servings.
So this one is two bags, of 32 oz each. You can choose a smaller, 16 oz serving if you wish.
The listing on Amazon for this tea will show you more, and you can read the reviews as well.
Spearmint tea
Also from Frontier, they have spearmint for those who would rather have this kind of mint.
The difference between the two types is a big one, but in terms of tea the most important thing I noticed is that spearmint is a little better for low sugar tea drinkers.
As such, you'll notice the refreshing mint flavor much stronger than with peppermint. Though that's up to each of us, which we like more.
The spearmint is in large bags as well, and it's going to last you more than a year as well.
Again, this depends a lot on how much of this tea you actually add to your teacup.
You can check the listing on Amazon here, and read the reviews as well.
Final thoughts
However you brew it, mint tea is delicious. One of my favorite ways to enjoy mint tea actually had nothing to do with extra flavoring, but rather something to snack on alongside the tea.
I had simple, white bread, generously spread with butter. No sugar or anything on it, just plain, unsalted butter.
So I'd take a bit of the bread with butter, and sip a bit of the tea, chew them together. It might sound odd at first, but the butter and bread go amazing with sweetened mint tea.
It's something I grew up with as a kid, and it's kind of a comfort food, whenever I feel like pampering myself.
Anyway, back to flavoring mint tea. Adding lemon rind to mint tea is one of my favorites, and I think we each have a favorite off this list. I hope I managed to help you out a bit.
If you want to know more about coffee or tea, feel free to check the related articles below. Who knows what else you might find ?